Coffee is ingrained into almost every person's life. Whether you use it to wake yourself up in the morning or drink it for pleasure, coffee has been used for thousands of years to give people delight, and brighten up their mood.
But what if there was a coffee company that made delicious coffee, and at the same time helped to make the world a better place through charity? You don't have to look any further than Revival Coffee Company to find a business that does just that!
Located in historical Selma, Alabama, known as the Black Belt region of Alabama, Revival Coffee Company seeks to not only make some of the best tasting, and professionally roasted coffee beans in the country, but to also change people's lives by giving to multiple charities across a wide range of issues.
The Story
Ryan Bergeron, the owner of Revival Coffee Company, got his start after bouncing around to a few different jobs in the state of Alabama and failing to find something that really grabbed his attention. It was also during this time that he, as he likes to describe it, "got smoked by Jesus and knew that I was called to do more." In early 2014, a good friend of Ryan's who owned G Momma Cookies gave him the idea to start his own business, and after a lot of praying and soul searching, Ryan started Revival Coffee Company.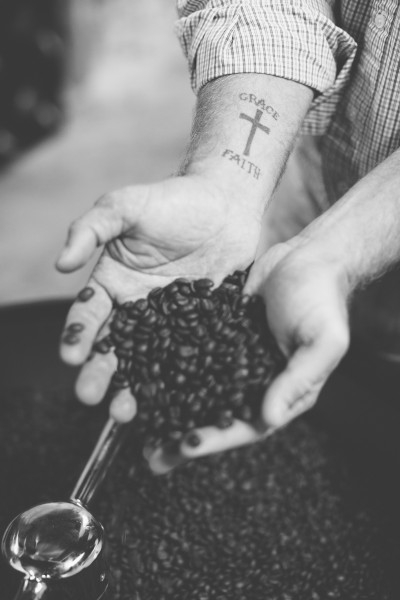 After taking a few cupping courses from Mane' Alves, one of the top cuppers in the world, Ryan trained with a master roaster in New York to learn the skills he needed to roast coffee beans the correct way, to bring out the most flavor.
Revival Coffee Company currently operates out of a restored building that was once desolate and unused, a fitting metaphor for the vision behind this coffee company. Revival seeks to "not only awaken people every morning with specialty coffees but to also awaken hope in peoples' lives that all things can be made good."
The Coffee
Ryan and the team at Revival Coffee Company want to make sure you and your customers know exactly what they're getting with each roast and coffee blend. That's why they always include the origin of the coffee beans, the cupping notes (aroma and flavor), and the type of roast on each bag of coffee.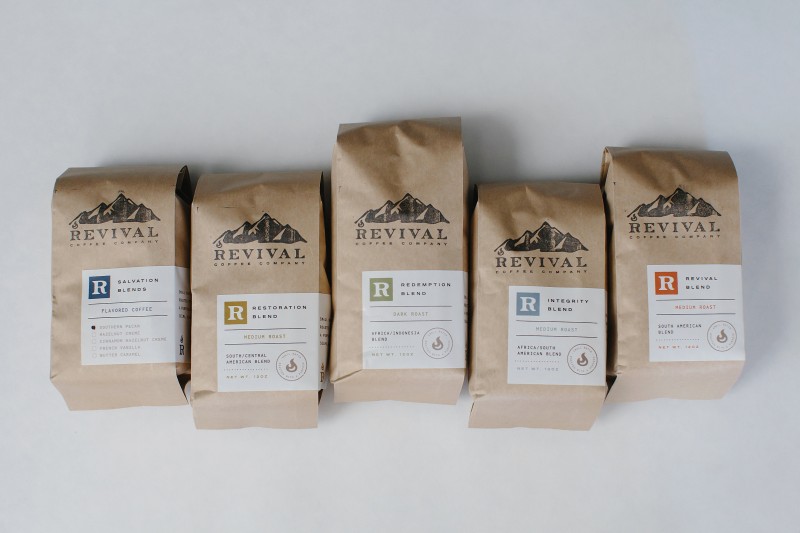 Just take their "Revival" Blend: this delicious medium roast coffee originates from the continent of South America and features cupping notes of chocolate and nutty flavors. Like your coffee a little on the darker side? Try the "Redemption" Blend. This dark roast blend originates from Indonesia/Africa, and features cupping notes of sweet, cherry, dark chocolate, and earth notes. This coffee in particular also serves a mission of helping to free someone from human trafficking, which is just one of the missions that Revival Coffee Company uses a portion of their profits to support.
The Mission
Revival Coffee Company supports four different missions by using 10% of the profits made from certain coffee blends to aid these causes. There are four main missions that Revival supports: Integrity Worldwide, Teen Challenge, Crisis Aid International, and Sav A Life. Each mission has a specific coffee blend that corresponds to that mission: Integrity, Restoration, Redemption, and Salvation blends.
Each of these missions serves to aid the world in a variety of different situations, including free meals for children, helping teenagers addicted to drugs, stopping human trafficking, and funding pregnancy resource centers. The money that you and your customers spend on these coffee blends will go back into the community and the world to help make the world a more livable and safe place for everyone.
So whether you're a drip, pour over, french press, percolator, or single serve kind of coffee drinker, Revival Coffee Company has the delicious blends that will please your customers, and help to serve some great charities across the world!