The key to running a successful business is understanding and meeting customer demand. The customer's voice, highlighting that which they prefer to purchase, is their money. In recent years, more and more consumers are choosing natural, unprocessed foods over those filled with preservatives. As a successful business owner, it becomes imperative that you purchase and carry natural, unprocessed foods to meet that increasing demand. Luckily, there are options out there for you to consider.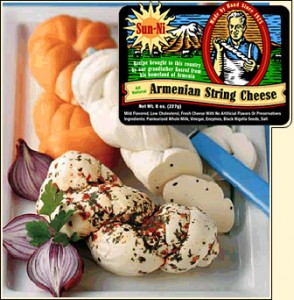 For natural and authentic Armenian string cheese and hummus made here in America, try Sun-Ni!
Delicious Food
In addition to the three different types of string cheese: original Armenian, hickory smoked and marinated, the company also produces six different flavors of hummus: original, sweet, fire-roasted red pepper, delightfully dill, roasted garlic, sun-dried tomato and jalepeno pepper! These foods are all produced from the highest quality all-natural ingredients and are both made and packaged right here in the USA!
Established Name
Sold in most major supermarkets along the east coast, Sun-Ni is looking to expand their footprint nationwide! In business as a cheese manufacturer since the early 1970's, the company took it's name from the daughters of founder Kosrof DerOhanessian, Sunny and Nina. When his partner in their joint Deli venture chose to retire, Mr. DerOhanessian began making and selling his Armenian string cheese to his old customers. It wasn't long before he realized that he had the beginnings of an entirely new business!
Family Owned/Operated

The company is family owned and operated and is dedicated to providing the best naturally produced cheese products on the market. Each piece of Sun-Ni Armenianstring cheese uses the highest quality whole cow curd and is hand braided as it has been for generations.
It's no secret that customers are looking, and buying, more natural foods. If you are adding to your gourmet or natural food section, Sun-Ni brand string cheese and hummus are the perfect products!