PlumStone Product's Sunstick is one of those products that makes you say, "Now, why didn't I think of that?!" It's ingenious! Sunstick bridges the gap between knowing how much sunlight your plants need and how much your yard gets. Stick the Sunstick garden light meter in the ground and wait for the cute, pink flower to change color to let you know how much light reaches a particular area. You will be amazed when you find that areas you thought were in shade get much more light than you thought!
Sunsticks can be used indoors or out to measure sunlight. A sticker in the center of the Sunstick will change color according to the amount light that can then be matched to a chart. Measuring ligh removes a massive amount of guesswork when striving for successful planting. By providing the proper amount of light to plants, you save money, time and frustration. Once you have you garden designed according to light availability, you'll be one step closer to sitting back an enjoying the view! No more guesswork!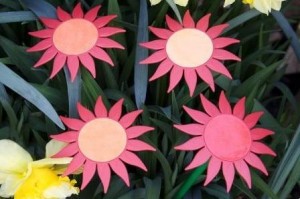 Sunsticks won't stick out in your garden, like so many other garden accessories. The cheery pink flowers comes with an attachable "stem" that holds the flower in place and can be left in place as decoration. They're that cute! Sunsticks can measure light amounts for eight hours, allowing you to place a few around your garden and go about your day. This a garden tool that does all of the work for you!
Sunsticks are a fool-proof way to make your time in the garden as enjoyable as possible! Sunsticks are your ticket to sitting down in your favorite chair with a ice-cold drink and enjoying all of your hard work.