Texas-based BBQ guru SuckleBusters specializes in award-winning rubs, sauces, chili kits and Texas GunPowder, and their products are sure to please everyone from backyard barbecuers to competition cooks across the country!
The company's products are preferred by competition BBQ cooks, and are 100 percent made in the USA.
They first introduced their products to BBQ Central more than seven years ago, and since then have won hundreds of industry awards, including two back-to-back 1st place wins at the American Royal BBQ Sauce Contest – the World Series of BBQ competitions.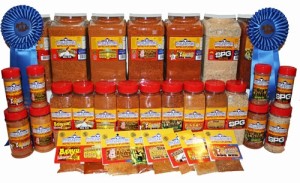 Top Selling Seasonings
SuckleBusters provides quality sauces and rubs guaranteed to make mouths water at your next family BBQ or cooking competition. Their Original BBQ Sauce has won hundreds of industry awards, and their Honey BBQ Sauce is the perfect finishing sauce and glazed used by many competition cooks.
Their rubs aren't too shabby either! The Hog Waller, a super sweet rub that packs in heat thanks to chipotle and cayenne peppers, is the company's No. 1 seller and is perfect on competition pork and ribs, while the Clucker Dust BBQ Rub offers sweet heat and savory taste.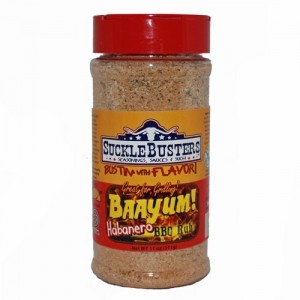 New Flavors
They're also gearing up to release some amazing new products for 2015. The Wild Thang Wild Game Rub is a black pepper-based seasoning that compliments the unique flavor of wild game such as deer, duck, fish and gators, but also goes well with more traditional meats, such as pork ribs.
The SPG Rub (short for Salt, Pepper and Garlic rub) is the perfect flavor enhancer for beginner cooks, and goes perfect on beef, pork, or just about anything you can imagine!
And for the dangerous cooks out there looking for a spicy option, the Baayum! Habanero BBQ Rub offers a super hot, super sweet blend that's not for the faint of heart!
Whether your customers are seeking a great gift or looking for a new way to spice up the dinner table, check this great company out and see why SuckleBusters means "Bustin' With Flavor!"