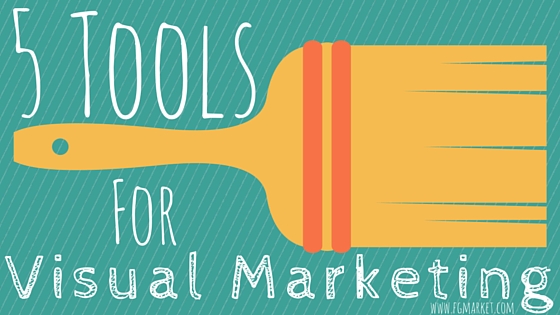 In the current culture of quick info, clickbait headlines, and "5-reasons-you-need-to-pay-attention-to-this-thing" lists (see headline), people seem to be caring less and less about spending a lot of time reading long lines of black-on-white text to get the info they need in their daily lives.
That means it's now more important than ever for companies to have great visual marketing graphics and images to compliment their posts. Whether it's a blog post, a tweet, a Facebook status, and Instagram post, or a Snapchat, companies MUST focus on the visual side of marketing to stay relevant.
I know how hard it is to find the tools your company needs to make great graphics (especially if you don't have a fantastic graphic design team to help you out). So check out this list of some awesome online tools that can help you — no matter your skill level — make beautiful graphics for all of your online posts!
Canva is a beautifully designed, free, and easy-to-use design program founded by social media guru Guy Kawasaki. With Canva, you can create gorgeous graphics using their pre-sized templates, for things like Twitter, blog posts, infographics, and Facebook cover photos. There are hundreds of free images and icons to use as well, but if you want to use some of the premium images, it's only $1 for each one! It's one of my favorite tools to use, and makes creating graphics for FGmarket blog posts super easy (just check out that great graphic I made at the top of this post. Whoa).
Pixlr made a name for itself thanks to its handy photo editing app for smartphones and tablets, but did you know they also have a desktop version of their program? Pixlr includes many of the basic tools you can find in photo editing programs like PhotoShop, but it's completely free. You can crop your photos, adjust the brightness, cut and paste images, and add text, all in one online program.
Unsplash is a stock photo website, but it's unlike anything you've ever used. These aren't your grandma's stock photos; every photo from Unsplash is a work of art, taken by professional photographers who want to share their pics with the world ( for free!) You can even sign up for their weekly newsletter to receive 10 new photos every 10 days directly in your email inbox.
Infogram is a great, free to use tool for making awesome infographics. Nowadays, consumers want to digest heavy data in visual ways, rather than reading through boring spreadsheets. Infographics are a great way to display data, analytics, and more in fun ways. Adding an infographic to a blog post or email is guaranteed to grab the attention of your customers in a big way.
YAY images is another stock photo website that boasts more than 6.5 million photos in its library. Although this is the only tool on this list that isn't free, the fee to use YAY Images is well worth it. Working as sort of a Netflix for stock photos, the user pays a base monthly fee, and is then able to download a set number of images each month, rather than paying for each individual photo. It's also a great tool for graphics and web design departments, who may use hundreds of stock photos each month.
Visual marketing can't be ignored; it's how people decide whether they're going to pay attention to what you're offering. With great visuals, you can make any marketing material stand out and help you to attract even more happy customers!