There's something about the excitement and sense of accomplishment that comes from finishing a puzzle that enthusiasts can't find anywhere else. Even with modern technology trying to distract at every turn, they are drawn again and again to these flat, oddly shaped pieces of cardboard which, when combined, form something both beautiful and worthwhile.
These men and women are already shopping in your store. Do you have the entertainment they crave?
Meet all their, and your, puzzle needs with White Mountain Puzzles!
Puzzle Options Galore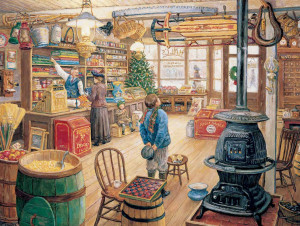 White Mountain's website has a number of sorting options so that you can buy exactly those types of puzzles your customers want. Are your customers looking for a serious challenge? Sort your puzzle selection by difficulty. Are they clamoring for complex puzzles with lots of pieces? You can sort by piece count. Are they looking for more puzzles featuring breathtaking landscapes? Sorting by theme is as easy as a mouse click.
You can even sort by artist if you or your customers are taken by a certain person's work!
And you'd better believe that with this kind of selection, sorting is a necessity.
Plenty of Puzzle Accessories
But White Mountain has more for your puzzle-loving customers than the puzzles themselves. They also carry a wide selection of puzzle accessories that every enthusiast needs.
After all, when they buy a gorgeous winter scene puzzle, they will want to buy the materials necessary to glue it together, mount it and hang it on their wall. They even offer postcards of their puzzle prints for those beautiful landscapes that customers can't get enough of.
Puzzle enthusiasts want quality, well-made puzzles, and they'll go anywhere to get them. If you want to carry everything you need to be the puzzle outlet for your area, go to White Mountain Puzzles!