When the walls are blank and drab in your customers' homes, where should they turn? Well, your store of course! Your line of home decor products takes a unique and endearing twist when you offer pieces from Jill Krasner Studios LLC. The walls will not be blank and drab, nor will the faces of your customers as they find in your store exactly what they've wanted all along.
Mosaic art so original and creative that no two are exactly alike. This truly unique quality keeps beautiful mosaic clocks, pedestals, vessels, and mosaic mirrors at the top of the list for consumers wanting their home accents to stand out.
The artisanship of each piece from Jill Krasner reflects the individuality and freedom of creative design that is valued in all types of home decor these days. Enjoy the contented smiles of happy customers who have found an expressive outlet in the unique home accents in your store.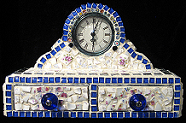 Jill Krasner Studios LLC is your connection to fabulous home accents with a unique artisan flair. One glance at this popular wall art, mosaic clocks, original paintings and even designer jewelry sets the tone for beloved home decor themes.
As your customers shop for more pieces to round out the look of their homes, they'll return to your store for more unique home decor items because they know that you carry the pieces that they want. Start this profitable chain of events by offering artisan home accents from Jill Krasner Studios LLC.