"NO! Kitty stop scratching the furniture," is a phrase shouted in most cat-loving homes. Cat owners have been faced with inappropriate cat scratching since the day cats became indoor pets. Often this scratching causes furniture damage and highly frustrated pet owners. C & D Pet Products has the solution to this age old problem.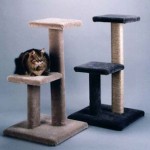 All C & D cat products have one goal in mind keeping a cat happy, content, safe and entertained. They make quality cat scratch posts, kitty trees and cat condos. These sisal scratching post combined with carpeted perches give cats an appropriate and fun place to scratch. Not only perfect for scratching, these perches can be placed in a window allowing cats a view of the outside world from a safe indoor environment.
For owners that want to give their cat an outside experience, but are afraid the cat may escape the safe environment of their own yard, C & D has the ultimate cat enclosures. Designed to allow cats freedom to experience the outdoors, their cat enclosures allow cats to romp in the fresh air while keeping them safe in their own backyard.
Dogs shouldn't feel left out. C & D Pet Products has something for them as well. From bedding to toy boxes and from ramps to travel products, dog owners will find great products for their pooch. Whether large, small, geriatric or a pup, C & D has a ramp for every dog and situation. They have a water dock ramp for the aquatic pup. Their ramps give geriatric dogs a way to climb easily onto the couch for a snuggle. Any dog needed a step up will adore the ramps and steps from C & D.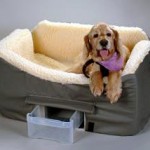 Pet travel is a rising trend. Dogs love to be on the go. C & D's travel products for pets make it easier to load and go. The Buddy Pet Lookout is a clever pet car seat that keeps small dogs safe in the car while allowing them a window view. With its clever pull-out tray, this car seat makes it easy to care for a pet's needs during a trip.
Who should you turn to when you need quality pet products for cats or dogs? When it comes to scratching posts, cat condos, ramps, pet car seats, bedding and more, the number one place to turned to is C & D Pet Products.