Customers are growing more selective of what ingredients they'll accept in the products they purchase and where they are made. Items that are 100 percent natural and made in the U.S.A can be the deciding factors in a customer's purchase. Chubby Chap is an excellent example of a product that is chosen specifically for its high-quality ingredients and country of origin.
All-American
Chubby Chap is a product that has it all– it has natural ingredients, is made in the U.S.A, and it is very unique. This .5 oz tube is three times the size of a normal tube of lip balm, insuring the ability to be found in any purse or pocket. Nominated for Martha Stewart American Made 2013 Audience Choice Award, Chubby Chap is a recognizable product not only because of its size.
Natural and Sweet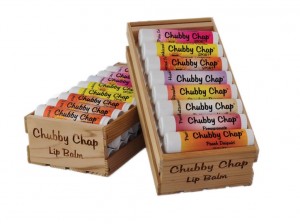 Free from petroleum and phthalate, this lip balm comes in 11 different flavors: buttercream, vanilla, huckleberry, mango, peach daiquiri, pomegranate,  strawberry banana, and other seasonal aromas. The Sport line, with flavors in twisted tangerine, pina colada, and sun-kissed vanilla, includes 15 SPF.
Made with coconut oil, beeswax, honey, and fragrance oils, customers will relish Chubby Chap's smooth texture and moisturizing distinction from mainstream brand lip balms.
When supplying a store, finding merchandise that can be bought by a variety of customers is important, especially during the winter shopping season.
Check out Chubby Chap. It makes a great gift for any occasion and its natural ingredients allow customers to purchase for even their most skin-sensitive family members and friends.