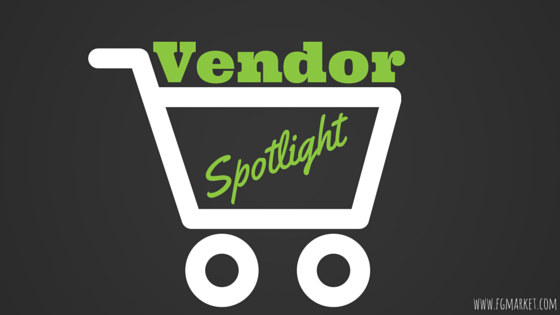 When a mother of three became concerned about exposing her children and pets to the chemicals in household cleaning supplies, bug spray, and skin moisturizer she took charge and created her own non-toxic products. Now, Good Natured Brand helps others go truly natural as their products contain no harsh chemicals yet are highly rated, effective, and offer wonderful fresh scents like lavender, lemon, rosemary, eucalyptus, and pine.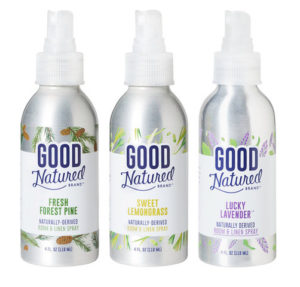 Clean Home, Clean Ingredients, Clean Life!
Good Natured Brand keeps homes clean without artificial fragrances, petroleum, or other toxic ingredients. The products were first sold at farmers' markets, quickly gained popularity through word of mouth, and are now sold in both traditional and natural grocery chains as well as independents.
Their cleaning products have a unique, differential advantage of being tested by the independent company Green Seal and then rated on the highest, green tier of Whole Foods' Eco-Scale. This is a unique distinction that many competitors can't claim.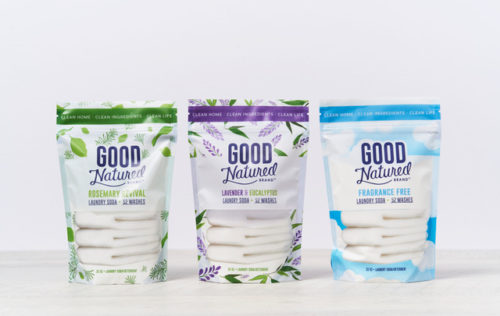 The company offers two scents of Laundry Soda/Detergents, lavender and rosemary, and each highly-concentrated bag covers 48 loads and comes with a handy scoop. In addition to the wonderful fresh scents, their blend of plant-based soaps provide antibacterial qualities and get clothes clean and soft. Those with sensitive noses will also love their fragrance-free bag! All three of their amazing detergents are hypoallergenic, won't leave behind any residue, and are compatible with high-efficiency washers and safe for wells.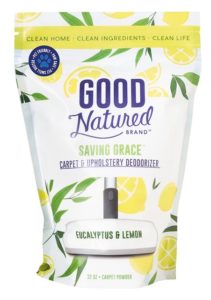 Their Saving Grace Carpet and Upholstery Deodorizer is a favorite of families with kids and pets. The powder is extremely easy to use—just sprinkle on carpets, area rugs, pet beds, couches, and even car seats, let sit for 10 minutes, and then vacuum it up. The natural eucalyptus and lemon create an antibacterial force that absorbs odors and leaves behind a fresh, clean scent.
Keep all surfaces of everything in your house clean with their lemon or lavender Surface Cleaners. Great for counters, appliances, floors, walls, bathrooms, toys, tables, chairs, car interiors, etc., they smell lovely and make cleaning fun! Not only are they highly effective at getting rid of all spills and grime, but they smell amazing and their antibacterial qualities are safe for kids and pets.
The attractive Room & Linen Sprays come in lavender, lemongrass, and pine and are great for spraying in rooms and on pillows, sheets, towels or in the car. You'll enjoy the fresh scents without inhaling harmful chemicals, and their natural aromatherapy provides a soothing calm. Keep a bottle in the bedroom, bathroom, and kitchen so a clean scent is never out of reach!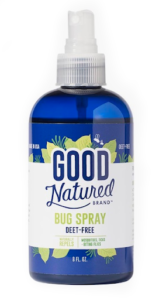 When venturing out of the house, make sure you have the Bug Spray which is child and pet safe and rated in the top 3 of the top 10 national natural brands. This DEET-free unique blend of citronella, lemongrass, rosemary, and cedar repels ticks, mosquitoes, gnats, and other biting insects, and comes in an 8-ounce cobalt blue bottle and is safe for the environment.
You'll also love the super-hydrating Bee Calm Balm Body Stick. This solid-form lotion has a twist-up applicator and can be rubbed on the body without getting hands messy. It combines the ingredients of beeswax, vitamin E and coconut oil to naturally moisturize the skin and is great for diaper rash, all dry skin areas, and bumps and scrapes for all ages. This handy body stick can easily be taken anywhere and used for any purpose!
Keep your family and pets safe and your home fresh and clean without worrying about harmful, toxic ingredients or harming the environment.
---
Love the Good Natured Brand motto of Clean Home, Clean Ingredients, Clean Life!