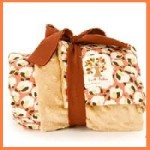 Trust This Organic Cotton Baby Blanket from Earth Babies
It's hard to go anywhere or even stay home and turn on the television without hearing something about the newest "green" trend. Well, there's a great reason for that. To us in the business world, becoming "green" in our actions can lead to a lot more "green" in our pockets. However, appealing to the very intelligent eco-conscious consumer means providing the certifiably green products that these customers want. So what's one of the hot items right now with this crowd? Textiles.
Believe it or not, the green dream has finally reached textiles manufacturers. These manufacturers are constantly looking for ways to deliver high-quality products such as bedding, table linens, clothing and more that meet the environmentally friendly standards. Well, organic materials have hit the market and are leaving other materials in the dust as a green blanket of environmental awareness begins to fall over consumers.
Organic textiles such as organic cotton are being used in a wide variety of products such as shower curtains, tablecloths and table runners, bedding, and more. Eco-friendly and organic products can even come from surprising sources. Some companies are beginning to repurpose recycled bottles into polyester yarn. This organic yarn is then used to make table linens and other products. Something as simple as using silk made without killing the silkworms (called "Eri" or "Ahimsa") is enough to make buyers choose these silk products over others.
Since textiles products touch nearly everything that we see and do, carrying trustworthy organic textiles will put you a step ahead in the respectful eyes of eco-conscious consumers. Quite frankly, this is a growing market rather than a shrinking one. Even offering a few environmentally friendly products in your store is a pleasing way to attract these very faithful customers.
The key to engaging customers with any kind of special product offering, especially for this target market, is with certification that proves that the products comply with an accepted standards. Many certification boards exist for environmentally friendly textiles. A few of these agencies include The Coalition of Northeastern Governors (CONEG), Control Union World Group, Global Organic Textile Standards (GOTS), Oeko-Tex, and the Institute for Marketecology (IMO). These and many other groups specialize in making sure that products which claim to be environmentally friendly live up to special standards before receiving a certification label.
What this means for your store is pretty simple. You want to sell the products that your customers want to buy. Your customers want to be able to trust in the product and in the buyer for every single item. According to the current trends among eco-friendly buyers, you can gain the trust of your environmentally conscious consumers in two steps. First, offer products that fit under the "eco-friendly" umbrella such as the hot items made from organic textiles. Secondly, make sure that these products really do live up to their "organic" label by buying certified brands and products. In this way, both you and your customers will be able to trust in the eco-friendliness of these products.