The heat wave is upon us. Therefore, you must get your store ready with all the right accessories for your customers. Have you accounted for what's on trend and what customers are gravitating towards? There are so many trends to keep up with. However, summer is all about going bold and bright. Anything goes during the summertime and your customers are ready to deck out their homes and get in the mood for the weather. So, FGmarket has a few picks that will definitely be a hit amongst your customers and ideal for the warmer weather.
Home Textiles – This trend should definitely be carried throughout the house, textiles included. You can feature beautiful pillows, bedding, curtains, tapestries, throws and afghans. Home textiles definitely make wonderful accents and are an inexpensive way to bring what's in style into a home. A beautiful blanket or even curtains can definitely transform a room. It may be simple, yet it can have a huge impact.

Creative Women, Triple Creek Products, Ecoaccents
Home Decor – Again, an easy way to bring in the latest trends is with home decor. These can make a huge impact or even a simple statement, yet still showing off the trends. There are so many unique items to feature as home decor like vases, picture frames, mirrors, accent pieces, artwork, clocks, ceramic items and so much more. During this time, they will definitely start featuring what's on trend within their products so you can find pieces for your shop. Look for color in these products. Some may want to include this in their house in a big way or even in a subtle way. So, provide both options for your customers.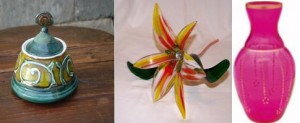 Oakland Pottery, Glass From The Avenue, Cultural Intrigue
Kitchenware – A big way to incorporate these products into your store is with kitchenware. This is the time for entertaining and having guests over. So, your customers want to provide them with something fun and festive, which is what summer is all about. You can feature different serving pieces, enamel plates and bowls with various colors and prints, unique silverware and serving utensils. Also, don't forget about all the unique drinkware you can feature in your store. The great thing about these items is that they're not pricey. Eating and entertaining outdoors are both wonderful activities that take place during this time. So, make sure your customers are ready with the latest trends.

Kraft Klub, Inc., The Mane Lion, Bentley Drink Ware
Outdoor Decor – Since this time is all about the beautiful weather, consumers are wanting to get outdoors and enjoy it. So, provide outdoor decor as well. Customers will spend most of their time entertaining outdoors during this gorgeous weather, so make sure they carry the bright and colorful trend to their outdoors.
India Handicrafts, Inc., Accent Decor, Inc., Cheryl Wolff Ceramics
Featuring the latest trends in your store is always a must. Your customers expect to walk in and find the latest ones so they can incorporate them into their own homes. They may want to do it all the way or just incorporate trends in a subtle way, either way, you need to offer those types of products to your customers. They'll truly appreciate you for that.