When wood artisan Neal DeVore discovered his love of woodturning (a form of woodworking). He began a business he loved and never looked back.
His creativity presents itself through the meticulous beauty of his creations. From sculptural works of art to beautiful dinnerware, his talent for turning burl wood has taken his pieces to various galleries and even made him a nominee for Martha Stewart American Made 2013.
But how can these unique pieces make their way into your store? That's when DeVore's wholesale store, Shavings, becomes part of your shopping list.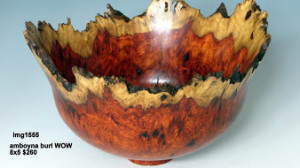 An Artist and His Medium
Turning professionally since 1996, DeVore goes to great lengths to give each piece a nice finish ready to be admired. His salad bowls, for instance, made of primary wood are hand rubbed with beeswax and mineral oil while his sculptural pieces are finished with a food-safe lacquer.
DeVore uses primary species of wood found in Northern California and creates his product out of pieces that would be burned or thrown away, as his own personal way of recycling natural resources.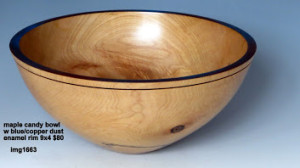 Pieces for The Home
Handmade in Lincoln, California, DeVore creates sculptural art pieces as well as a line of what he calls functional kitchen an household accessories.
From platters to salt shakers, each piece offers DeVore's signature unique flare. Customers will love the beautiful bowls with contrasting enamel rims and one-of-a-kind tea light holders.
Surprise customers with not only beautiful dinnerware, but also high end art pieces they can display in their home by a recognized artist who loves to let his creativity blend with nature.
"I never cease to be amazed by what mother nature provides when I open a lump of burl wood and the beauty just leaps out at me," he said. "I always say she gives me the art and as a craftsman, I just work around the edges."
All of DeVore's pieces are unique, creative and a customer favorite. Get Shavings sculptural art and handmade homewares for your store.