It is a proven fact—kids learn more when they are having fun! Lee Publications has mastered the art of creating exciting learning tools for kids (and adults!). Imagine the joy in the kids' eyes when they spot the magical toys that you have on your shelves!
Lee Publications' educational toys focus on magic ink books, magnetic fun tins, and stickers. As well as storybooks and educational trivia books. No matter if you are looking for classic toys or new toys, they are going to offer what you need most. A few of the themes are listed below:
New Disney characters
Old Disney characters
Comic strip characters
Animals and Bugs
Sports
Super Hero's
ABC's
Seasonal
Princesses
many more!
In addition, children will love playing with the travel games, jewelry beads, and educational games offered by Lee Publications. If parents are looking for a way to entertain their children for hours, then this is the perfect way!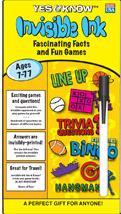 Schools, churches, and other organizations can also benefit from buying wholesale educational toys from Lee Publications. This is an affordable way to entertain their students while they are learning! Their most popular educational games are Guess and Show and Know Now.
Besides being fun and entertaining, when you buy children's toys and educational games from Lee Publications, you are buying quality. Each of the fun toys and books are tested to ensure they use only 100% kids-safe materials. They recommend the toys to be appropriate for ages 3 and up.
If you are a reseller looking for wholesale toys and wholesale educational games then Lee Publications offers everything you need. You will not find these one-of-a-kind "magical ink" books anywhere else. They also sell displays to use in your store when you buy the children's toys and games.