When customers want to indulge their sweet tooth, they are more inclined to give in to a delightful snack if it's just as healthy as it is delicious.
So, it is no surprise that they rarely refuse Avenue Sweets' tasty confection that are all natural and gluten free.
Delights for All
Agnieszka Jones, candy maker of Avenue Sweets has made a business out of her candy abilities that originate from her homeland: Poland.
Featuring 15 varieties of caramels and four enticing assortments of peanut brittle, these delicacies are all natural and made the old-fashion way. In the mood for creamy Butter Rum caramels made with real rum or want to try the spicy Blazing Brittle coated with seven chili pepper blend? With an array of flavors for any candy mood, every customer will find the sweetness they are craving for.
Vegan and dairy-free customers can also feel free to delve into this savory treat without any worries. There are three different dairy-free caramels available that are made with coconut milk and coconut oil instead of cream and butter. Truly the perfect gift for all candy lovers.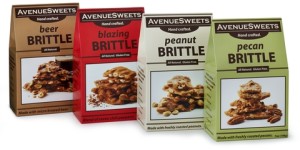 Recognized Sweets
These caramels and brittle haven't just been recognized by candy lovers everywhere. It has made it to the pages of Martha Stewart Living and into the gift bags of the International Emmy Awards! Jones' candies are found in gift and specialty shops across the country.
This handcrafted confectionary will be a customer favorite in your store. What are you waiting for? Check out Avenue Sweets and let them eat candy.