If you have customers that are looking for a healthy new alternative to their same old boring chew toys, then SodaPup is what they need.
SodaPup is a Portland, Oregon company that manufactures and distributes their unique brand of rubber chew toy to pet owners all across the world.
What makes SodaPup stand out from the rest of the chew toy industry is their commitment to manufacturing their products right here in the USA, as opposed to them being manufactured in a foreign country, and then shipped over the sea to the States.
What many people don't realize is just how many of the pet products we give our furry friends are made in China. There are advantages to dog toy companies having their products made in China, such as low production costs, leading to lower prices for consumers.
But this also leads to unintended consequences, such as poor wages for factory workers, environmental hazards because of a difference in environmental standards in China, and dangerous working conditions.
SodaPup wants you to know that they're not just a company driven by the bottom line; they truly believe there is a better, more responsible way to do business.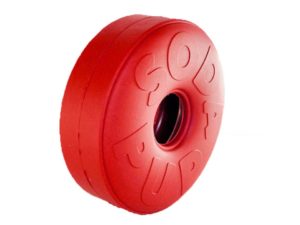 That's why they came up with one of their most popular products, the Original Can Toy. This product is where SodaPup gets its name: a chewable and durable soda-can-shaped chew toy that comes in 3 different brightly colored styles.
Every product from SodaPup is made from their own original rubber compound, consisting of all-natural rubber. Most chew toys claiming to use rubber are actually using synthetic rubber or thermoplastic rubber, which can pose a health risk to your pet due to a primary ingredient in these rubber toys: petroleum.
Their original compound is not only healthier for your dog, but they also strike a perfect balance between durability and chewiness. Dogs will love these colorful toys for years and years!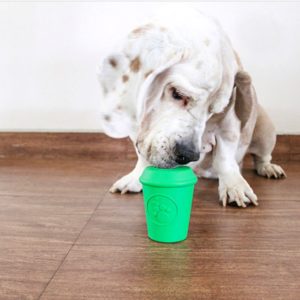 Because SodaPup's Can Toys are shaped like real soda cans, they are also hollow in the center and have holes in the top, just like any normal can of soda. This allows pet owners to place their dog's favorite treats inside of the Can Toy for an even more enjoyable experience!
Have smaller pets? No sweat! SodaPup also has a wonderful Puppy Collection that is made from a much softer rubber compound that's specifically engineered for pups with tender mouths. This softer compound also helps to massage their puppy gums when they're teething.
What about the other end of the dog-size spectrum? Does SodaPup cater to the Pitbulls, Bulldogs, and Rottweilers out there? Of course! Their Magnum Collection is for rough and tough chewers; dogs who are more aggressive with their toys. These chew toys are made from an ultra-durable variation of the original rubber compound, along with a special additive, that works together to increase tear strength.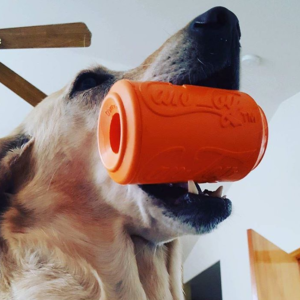 For the hunters out there, check out the Hunter Collection. These Can Toys and other chew products come in a bright, highly visible orange color, and are boxed in camouflage packaging. The collection includes floating training dummies, retrieving toys, dental toys and tug toys, to help train hunting dogs like Labrador Retrievers, Pointers, Beagles, and more.
They also make sure to comply with USA environmental standards when making their products, which just so happen to be among the highest in the world.
The local jobs that they help create due to their USA-based production facilities in Colorado and Minnesota mean they're also committed to creating fair wages and a better life for many workers living in the States.
SodaPup knows what dogs love, and have made the perfect chew toy for the cherished pup in everyone's life!