"Be kind to women. They make up half the population, and are the mothers of the other half!"  Truer words have never been spoken. Add to that a colorful, cheeky illustration and a sweet message inside, and you have one of Olive Sandwiches' dazzling Mother's Day Cards! Olive Sandwiches, named after owner Nancy's mother's favorite snack, offers sassy, unique wholesale greeting cards and gifts for the women in your life who have left an impression.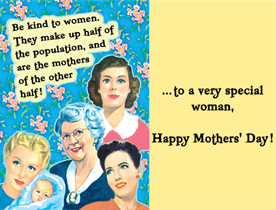 In addition to offering cheeky cards for the special women in your life, Olive Sandwiches proves it knows what women want with its selection of chocolate, bath salts, and other saucy novelties. Gifts from Olive Sandwiches capture what is a most dear, unique, and sometimes funny about women who know who they are and what they want.
They raised you, cooked your favorite meals, and found the time to teach important lessons. So why not give your mother something representative of what her big, loving personality means to you?
With Olive Sandwiches, you can send a touching message while getting a chuckle out of Mom. Mother's Day cards proclaiming, "Ask NOT what your mother can do for you.  Ask what you can do for your Mother!" and, "I love you no matter what you do… but do you have to do so much of it?" give glimpses inside the mind of a mom while thanking her for her love and patience on the inside of the card. Continue reading "Olive Sandwiches Greeting Cards: Lots of Fun for Fun Mothers!" »