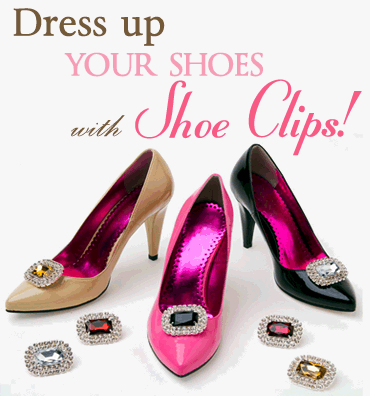 It's no secret, every girl loves bling! Bling is not just sparkly diamonds anymore, it's the stylish little finishes that make a girl's look go from good to GLAM!
This is precisely what Absolutely Audrey's line of amazing shoe clips does for a girl's wardrobe—instant makeover! No need for new shoes, add a glamorous shoe clip. Girls won't stop at shoes; clips are a great way to rethink our favorite hats, scarves and other accessories. Need to match a purse to a specific outfit? Add a clip!
With hundreds of clips in high quality materials – rhinestones, crystals and pearls – any girl is sure to find a shoe clip to match her style.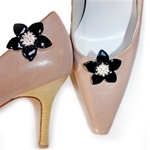 Shoe clips are a great way to revive a tired wardrobe. They fit to any shoe style a girl could think of: flats, pumps, sandals, espadrilles, boots — even flip-flops! Stylish females in-the-know are well prepared for last minute parties by carrying extra shoe clips in their handbags.
Absolutely Audrey's shoe clips are perfect for quickly transforming everyday work wear into stunning attire ready for a romantic night on the town or a funky girls night out! These cute fashion accessories come in a multitude of colors, styles, and collections. The latest trend is vintage— girls will love the Inspired by Audrey Hepburn collection!
They have been featured on TV shows like NBC's Today Show, and in magazines everywhere — from InStyle to Cosmo Bride. Speaking of brides… Continue reading "Go From Good to GLAM With Stylish Shoe Clips" »