Have you ever stepped on a shaky, unreliable stool? Those uneasy feelings do not have to keep coming back! Tower Stools are American-made to ensure the absolute best quality.
Reed E. Henschel is the designer and patent holder of Tower Stool. He has many talents within woodworking, but his passion became reality when a professional athlete needed an exercise stool. The exercise stool needed to be equally strong and compact. Reed developed a new folding method to make these stools lighter.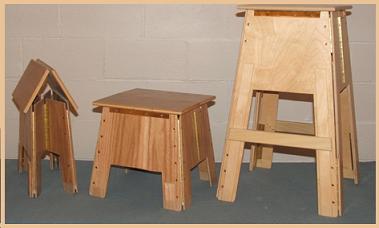 Not all stools and benches are made the same. The Tower Stool folding benches and stools are distinctive because of the patented hinge design. These stools open and close with the flick of a wrist. Gone are the days of storing a clunky, stiff stool. In the closed position, these stools are less than 3 inches thick. This means the stools can be stored in so many more places than traditional stools.
Carrying and moving them is also a breeze because of the lightweight build. The wooden stools and benches from Tower Stool can be completely customized to your liking. It comes in nine different sizes ranging from 6 inches to 30 inches. Specific requests can also be catered to. Reed and his team can add hand painted lettering, Rosemaling, Scandinavian art, Wester art, Folk art, logos and much more. The folding benches come in two unique sizes, 16 inches or 18 inches.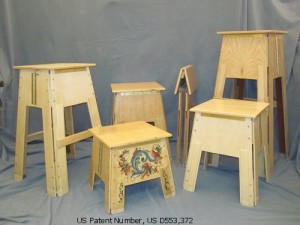 Reed started over 2 decades ago with the aim to provide quality, American-made stools. He wanted to ease the queasiness of standing on unstable, wobbly wooden stools. The options for superior wooden products are almost endless. Whether it's a traditional stool, folding bench, utility table, 2 stepper, shooter's bench or workstation table, Tower Stools is the only option for you.
Their award-winning tradition, including being featured in QVC's 50 in 50, has revolutionized the wooden stool industry. Start with the wood stool they're known for and move slowly to replacing all wooden goods in your home with the finest quality products known to man. Tower Stools will be happy to take any custom requests as well so don't forget to add a personal touch to each item!