As a business owner, you understand the importance of not only getting a customer to walk through your door but also in having items that will get them in a buying mood. Once they have an item they're willing to pull their wallet out for, they are more likely to pick up a few other things along the way and come back in the future. If you're looking for that one item sure to entice customers to break the seal, you want Idiom Art & Gifts!
Letting the Cat Out of the Bag
An idiom is a phrase that has meaning outside it's literal meaning. A perfect example is Holy Cow. In common usage, that's merely an exclamation of surprise or excitement, whereas the literal meaning is a bovine with spiritual inclinations. Idioms are a fun way to express ourselves and the English language is full of them!
That's why artist Lori H. Barrett chose to take these phrases and draw literal interpretations of them. The results are always humorous and often thought-provoking while her unique style is both eye-catching and pleasant to look at. Your customers are sure to love each and every piece at first sight.
More Product Options Than You Can Shake A Stick At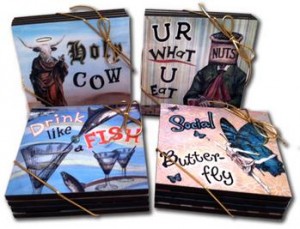 So in what formats can you get these impressive artistic renderings? Well, almost all of them. Lori offers her work in cards and prints, magnets, mugs, coasters and tiles and even glass cutting boards! And each comes not only with the image but also a history and meaning of the idiom. It gives your customer the opportunity to learn where some of the more zany sayings originated.
And the best part? When you buy from Idiom Art, you are buying directly from the artist herself. That's means no middle man taking a cut for themselves. Just a direct transaction between you and the creator of these fine pieces so you can offer them to your customers at the best possible price.
So if you're looking for something quirky and unique to pique your customer's interest, click over to see what's available from Lori H. Barrett of Idiom Art & Gifts!